"Ram Katha Rahasya" by Swami Mukundananda in Houston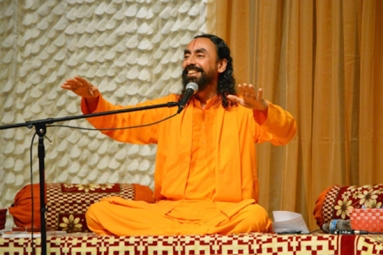 About this Event
"Ram Katha Rahasya" by Swami Mukundananda
Bring spirituality closer to the family. Spend quality time nourishing the body, mind, and soul in the inspiring company of Swami Mukundananda. Listen and relish the divine Vedic knowledge, elevate your soul with blissful meditation, melodious kirtans and special aarti.
"Ram Katha Rahasya" by Swami Mukundananda in Houston TX, August 11th - 17th, 2018
VENUE: Hindu Worship Society, 2223 Wirtcrest Lane, Houston, TX 77055
Contact: 281-630-5982; 832-661-3376
Hosted BY: JKYog
*FREE admission! Register at https://www.jkyog.org/events/Ram-Katha-Rahasya-Houston-TX-2018/
Swamiji is the founder of Jagadguru Kripaluji Yog. He is a world-renowned teacher of Yoga, Meditation and Spirituality. He received his degrees in Engineering and Management from two world famous professional institutes in India, namely IIT and IIM. However, the call of God was so strong that even after landing a top corporate job, he renounced the professional career in the quest for God-realization. Swamiji is the senior disciple of Shri Jagadguru Kripaluji Maharaj.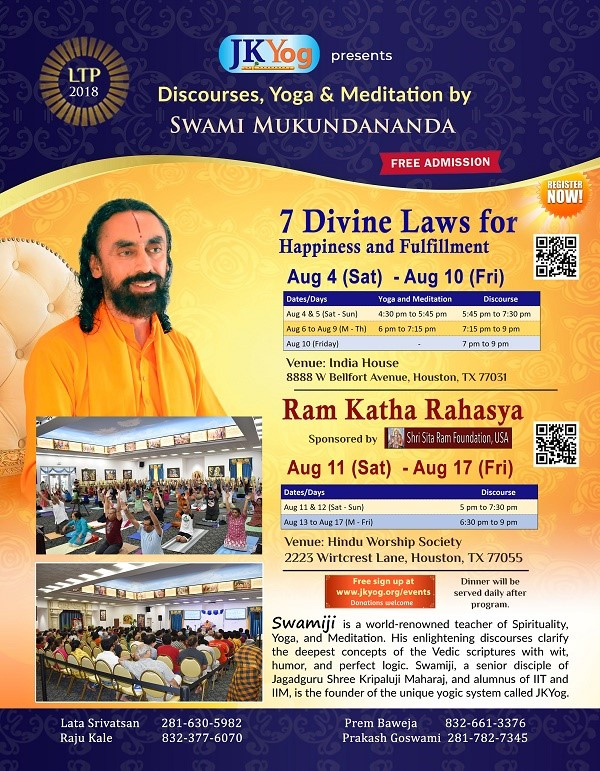 EVENT TITLE & ADDRESS
STARTS FROM
Pecan Grove Picnic Area Zilker Park,
Lady Bird Lake Trail,
Austin, TX 78746

Sugarland Memorial Park Pavilions,
15300 University Blvd,
Sugar Land, TX 77479