Yugpurush Mahatma Ke Mahatma - Houston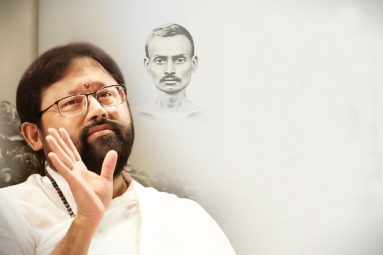 About this Event
A TRIBUTE TO TWO GREAT SOULS YUGPURUSH - MAHATMA NA MAHATMA
Commemorating the glorious occasion of Shrimad Rajchandraji's 150th birth anniversary year, under the able guidance of Pujya Gurudevshri Rakeshbhai, Shrimad Rajchandra Mission Dharampur presents the theatre production, Yugpurush - Mahatma na Mahatma.
Yugpurush is a heart-touching and riveting portrayal of the profound spiritual relationship between Shrimadji and Gandhiji. Experience Gandhiji's internal and external journeys unfold under the inspiration of his spiritual mentor.
Yugpurush highlights the values of expanding one's capacity to love and give selflessly, respecting diversity, supporting truth, fostering trust, and building lasting communities. It brings to the forefront a powerful experience of looking within, upholding truth and fearlessness, as well as transforming character and consciousness.
The Gujarati play is directed by acclaimed director Rajesh Joshi of 'Code Mantra' fame, and scripted by well-known playwright Uttam Gada of 'Maharathi' fame. The music direction is by popular composer duo Sachin - Jigar. Duration: 120 minutes with intermission.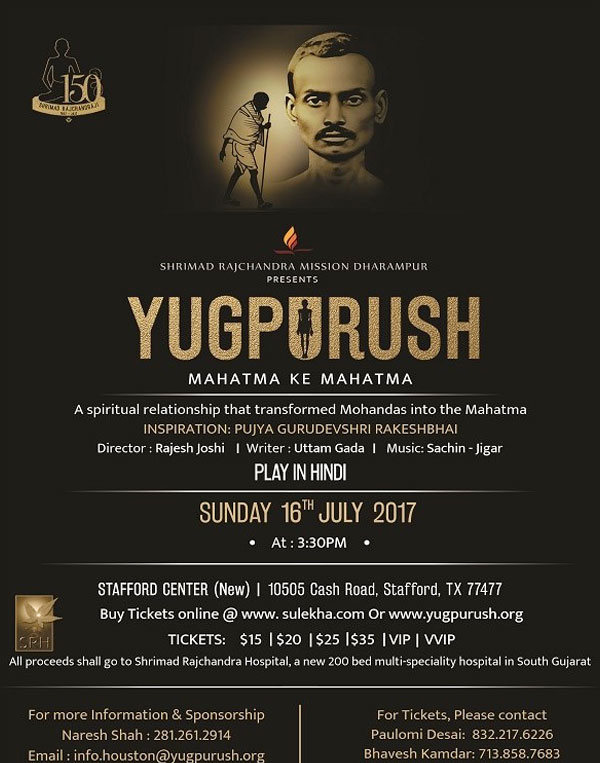 EVENT TITLE & ADDRESS
STARTS FROM
Old Stafford Civic Center,
1415 Constitution Ave,
Stafford, TX 77477

Saint Joseph Hall,
303 Present Street,
Missouri City, TX 77489

George R. Brown Convention Center,
1001 Avenida De Las Americas,
Houston, TX 77010

Stafford Center,
10505 Cash Road,
Stafford, TX 77477