Bollywood And Beyond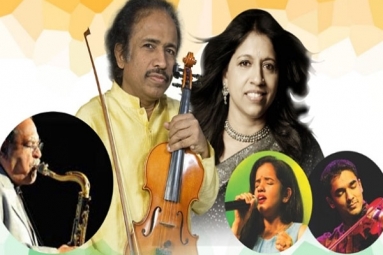 About this Event
Symphonys Unlimited is proud to present The Lakshminarayana Global Music Festival in Houston, TX.
Since its inception in 1992, the LGMF has presented some of the greatest artists from around the world including Yehudi Menuhin, M. S. Subbulakshmi, Bismillah Khan, Al Jarreau, Stanley Clarke, George Duke and Jean-Luc Ponty. In 2010, Kavita Krishnamurti Subramaniam took over as Artistic Director.
LGMF is the only music festival that has been able to showcase talent from around the world and provide a platform for all different styles of music; it has presented Indian Classical (Carnatic and Hindustani), Jazz, Rock, Western Classical, Orchestral, Indian Folk, Ghazals, Hindi Film music, and different Classical and Folk styles from five different continents.

This year in Houston we present Dr. L subramaniam, Kavita Krishnamurthy Subramaniam, Ernie Watts ( Saxaphone and Jazz Musician) along with other musicians.
EVENT TITLE & ADDRESS
STARTS FROM
Ayva Center,
9371 Richmond Avenue,
Houston, TX 77063

Sugar Land Auditorium,
226 Lakeview Drive,
Sugar Land, TX 77498

Stafford Civic Center,
1415 Constitution Ave,
Stafford, TX 77477

Nrg Arena,
West Walker Tunnel,
Houston, TX 77002