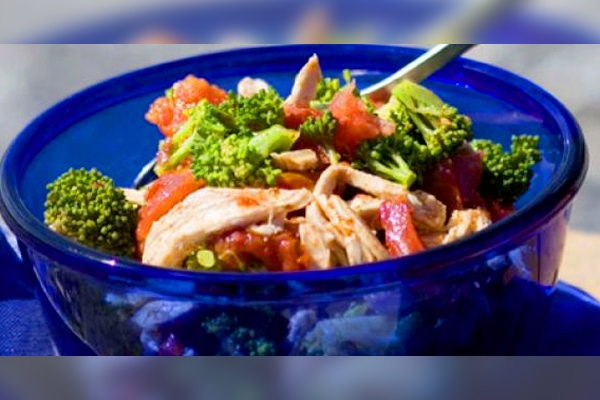 (Image source from: Madras Chicken & Broccoli Salad for health})
You love to eat non-veg, at the same time love to eat something healthy! It is definitely a tough ask, though it is still possible. Consider this Madras Chicken & Broccoli Salad recipe for your health as well as taste.
Makes: 2 servings
Active Time: 20 minutes
Total Time: 30 minutes
Ingredients required for Madras Chicken & Broccoli Salad
skinless chicken breast: 8 ounces boneless
nonfat plain yogurt: 1/3 cup
prepared mango chutney: 1 tablespoon
hot Madras curry powder: 1 teaspoon
chopped fresh cilantro: 2 tablespoons
finely chopped broccoli: 2 cups
finely chopped red onion: 1/4 cup
chopped cashews: 1/4 cup
How to make Madras Chicken & Broccoli Salad
Take a saucepan, place chicken, add water to cover
Cover, reduce heat and gently simmer.
Keep it till chicken gets well cooked. It takes more than 10 minutes.
Now transfer to chopping board and chop into pieces. Cool to room temperature.
Meanwhile, whisk chutney, yogurt, curry as well as cilantro in a bowl. Combine them.
Add onion, broccoli, cashews and the cooked chicken.
Toss to coat.
-Sumana