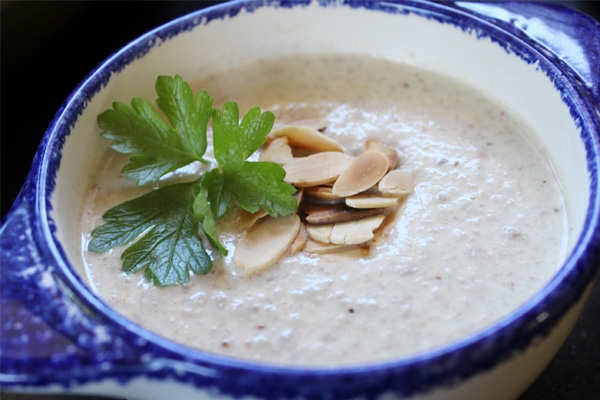 (Image source from: Healthy Almond and Mushroom Soup})
Almonds benefit human beings in multiple ways, like better health, beauty and energy. Mushrooms also have very nutrient qualities in it. Now let us see a soup preparation with almonds and mushrooms. The easy and juicy liquid helps in shining skin and better digestive system.
Ingredients
1/2 cup almonds (approx. 50 gms)
1/2 cup milk (100 ml)
50 gms mushrooms, wiped and chopped fine
2 Tbsp butter
4 Tbsp maida floor
4 cups water
2 tsp salt, or to taste
1/4 tsp white pepper powder, or to taste
4 Tbsp cream
Preparation Method:
Soak the almonds of 30 grams and peel off its skin after 15 minutes. Chop the remaining almonds and keep aside. Blend the soaked almonds with the milk.
Now, heat the butter and oil and then add the chopped almonds and mushrooms till a little glossy.
Add the maida and keep the mixture on low heat till changes color slightly. Add the water a little at a time, stirring all the time to blend well and make sure maida mixed with the milk and mushrooms and add the milk and almond mixture, salt and pepper and put on sim for 4-5 minutes, stirring off and on to get perfect mixture.
You can serve hot and at last you can add cream for taste and garnishing.
-Kannamsai