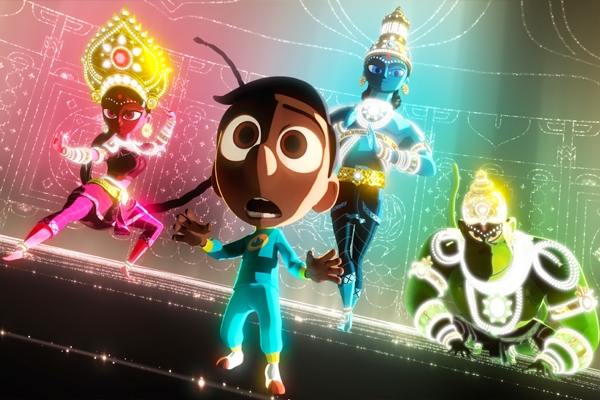 (Image source from: Hindu gods as superheroes})
Have you ever imagined Gods and Goddess as superheroes? Sanjay Patel, an Indian American citizen made a short animated film that represents Hindu Gods as superheroes. The film is named 'Sanjay's Super Team'.
"I told John Lasseter that every morning, my dad would pray to his gods and his shrine, and I would pray to my gods, and my shrine, which was the TV and the cartoon superheroes that I worshipped,"  said by Patel to Wall Street Journal.
The film is inspired by the director's own childhood when he felt clashed with  his family traditions.
In the writer's view, "it is a story of a little boy who rejects his culture, but during all of his childhood, how daily he and his father sat side by side performing meditation or puja. He said, my dad would pray to his god while I would worship my god that were the TV and cartoon characters. I was very nervous and worried about to make such a film, but since I  got  approval for the project from US studios, I felt it is possible to do it."
The Writer, director, said,  "I am not at all religious even I have been in India hardly for two months, but I would love to come back with my parents. It seems like a dream to travel to our origin and connect with them. I am just curious about existential things and always wanted to turn them into a story. Indian Vedas and its mythology seem to be amazing to me. Besides this, as more as I read about Indian culture, tradition, Vedas found loving in all such stories, it also helped me to understand my parents view and how those matters to them."
Patel joined the Pixer Animation Studios in 1996 and animated many animation films like  ''A Bug's Life'', "Ratatouille", "Cars" and "Toy Story 3". 'Sanjay's Super Team' is now nominated amongst the 10 best animation films and is on the way to the voting process for the 88th Oscar Award.
-Nandini