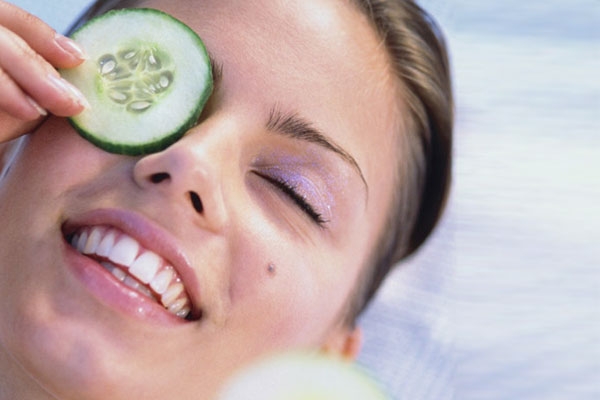 (Image source from: })
Spoons
Pop few spoons in the refrigerator before you go to bed. When you get up, press the backsides of the spoons to your puffy eyes. The coldness will help reduce the swelling and thereby the puffy look.
Cucumber
Cucumber works good for your eyes and also avoid puffy eyes, cut cucumber in slice Then, go back to bed for a few minutes with the slices over your eyes. You'll be refreshed and ready to face the day in no time.
Caffeine
Caffeine works to pull the water out of your skin, which helps reduce the appearance of bags pretty easily. Drinking caffeine is a must in the morning, but won't have the same effect on puffy eyes.
Massage
Massage the puffy area that helps to drain the fluid and reducing your puffy eyes. It only takes a couple of minutes to see results so you won't have to spend much #time getting the job done.
Potatoes
Slice the potatoes and get them very cold before you lay them over your eyes. Chilled slices also help combat puffiness better than warm ones.
Hemorrhoid
Use hemorrhoid cream to shrink under-eye bags when you get up in the morning.
Drinking water
As you know drinking water has many health benefits and it also helps to reduce puffiness under your eyes. If you get plenty of water, you can help get rid of puffy eyes with hardly any effort at all.

-Arun Kumar