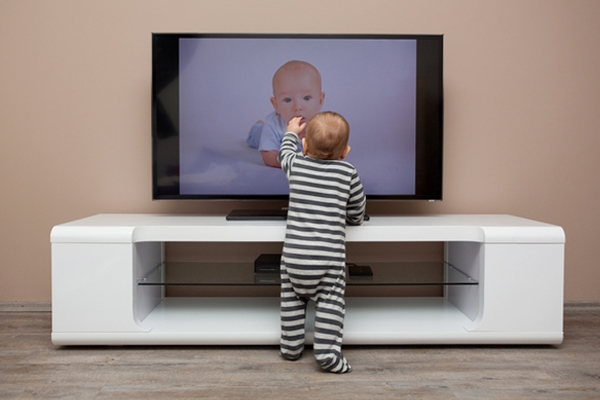 (Image source from: Is it good for toddler to watch TV?})
Is your little prince enjoying watching TV?  This may make you happy as a parent! But, know the amount of screen time that is good for your toddler. The American Academy of Pediatrics (AAP) recommend that kids aged two years old and more may watch TV for one or two hours daily. But kids below two years of age should not watch television.
It is important to keep a watch on the viewing time of your toddler from day one, rather than putting tireless efforts later on. Children follow their parents and go with the habits they are accustomed to. So, it is vital to watch your screen time as a parent and keep viewing time of your baby under control. Here are few tips to make your job easy. Check out!
Limit the TV watching time of your toddler
Turn off TV screens during meals and during your baby's play time. Allow your baby to watch TV with break up times of 10 to 15 minutes. Don't place your TV at a very convenient place in the house. Place it in an out of the way room, so that it doesn't become a backdrop to family life.
Help your toddler become critical viewer
Allow your toddler to go for calm, quite and slow going programs. Keep them away from scary shows or programs with a lot of random activities, which are likely to confuse them. Ideal shows are those which inspire your kid to sing, dance or say words. Watch TV with your child. Talk to your child about what is happening in the show or in ads. Allow your child to think, absorb and connect with things happening in the show.
Be a role model
Most important thing to remember is that, parents are the role models for children. So, avoid continuous surfing of channels or turning on your TV as background. If your kid keeps observing your keenness in watching TV, he believes that it is where we can draw pleasure from. Parents think of all these stuff while allowing your toddlers to watch TV.
-Sumana