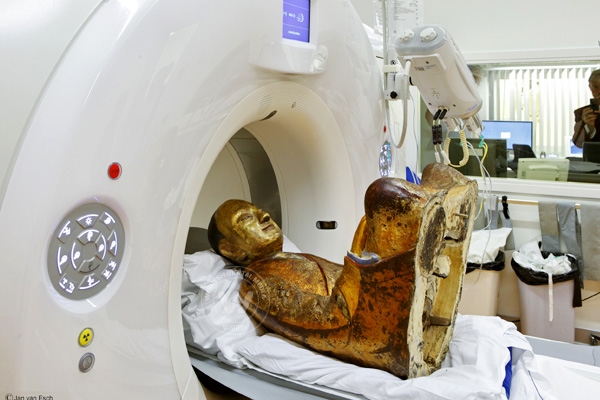 (Image source from: CT scanner reveals a mummified monk in a statue})
Researchers at Norway have discovered a mummified monk when they placed a 1,000-years-old Chinese Buddha statue inside a CT scanner. Researchers believe that the statue contains the body of a Buddhist master named Liuquan who may have plasticized the tradition of "self-mummification" in order to achieve self-enlightenment.
Buddha statue containing mummified monks are quite rare and this is the first of its kind found beyond the borders of China. The statue was on display in a mummy exhibit last year at Drents Museum in Netherland.
It is believed that in order to achieve the trance state, the living Buddha had to undergo the"self-mummification" process. Monks on this spiritual path would starve themselves for almost a decade, having only water, seeds and nuts. Then, they were sealed inside statues along with roots, pine barks and a toxic, tree sap-based tea for another 1,000 days. Through a small tube, they were able to eat and breathe.
Eventually the monk dies and it is in this manner they reach the state of refinement.
According to the Drents Museum, this Buddha sarcophagus is an example of self-mummification.
However, let's hope that sealing inside a statue along with roots and toxic tea is not only the way to attain self-enlightenment.

-Smrutirekha