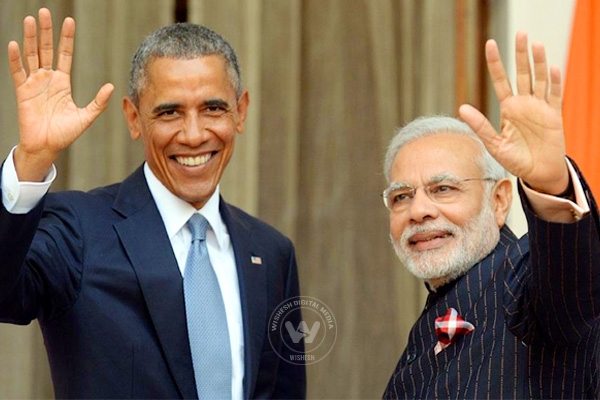 (Image source from: Obama Visit to India strengthened ties: White House})
US President Barack Obama's India visit helped both the nations to deepen the ties in ecomony, defence, and other crucial areas. His presence during the Republic day celebrations encouraged India to showcase their fullest strength to the entire world.
After a month of his visit to India, White House said in an announcement that Obama's historic visit enhanced the level of bond in multi directions.
"There is an opportunity for us to try to advance the interest of both our countries by working together and by coordinating our efforts. And the (US) President is certainly committed to that. In part because of the substantial economic benefits that could be enjoyed by the American people," White House Press Secretary Josh Earnest said on Tuesday.
"And that ultimately is his goal. I know that Prime Minister Modi has similar interests. I don't know of any recent conversations that they've had, but that continues to be a priority of both the president and his administration," Earnest said.
"The President also does believe that, as Indian consumers have the opportunity to buy American goods, that could be good for the Indian economy, as well," he said.
"The President did have the opportunity to discuss some of these economic issues and our trade relationship with India in the context of his visit to India just last month. The president spent a lot of time with Prime Minister Modi. They spent a lot of time talking about some of these economic issues," Earnest said.
During Obama's trip he and Indian Prime Minister Narendra Modi have discussed on various issues including Modi government's flagship programs such as Clean Ganga mission, Swach Bharath, Make in India and encouraging girl child. Obama agreed to generate employment in US for Indian citizens and feasible conditions in Visa processing.
-Kannamsai