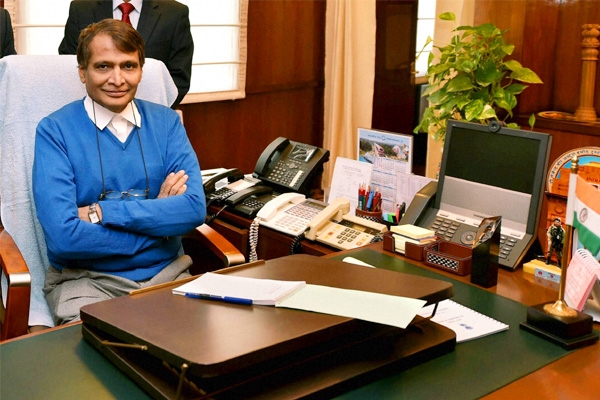 (Image source from: Railway Budget - Suresh Prabhu Mark or Whose Mark?})
Union Minister for Railways, Suresh Prabhu will present his first budget in Lok Sabha today. So far Railway ministers have given priority to their own state or region in preparing budget. The former leader of Shiv Sena, Suresh Prabhu has floated to BJP and secured the portfolio of Railways. He can give importance to his own state Maharashtra or Modi's state Gujarat. But common man is expecting equi-importance to all states and regions.
This time budget may completely concentrate on revenue generation and heightening security or safety in railways. The minister may not announce more number of new trains but likely to urge centre for financial assistance of 50,000 crore for completing the pending projects, for which railways need Rs. 1.82 lakh crore.
Nearly 23 million commuters are using railways services in a day. To cater the services, 12,617 passenger trains run every day and 7172 stations are being utilized for the transactions and points. However, passenger trains or coaching trains are not profitable to railways, and 67 percent of revenue comes to railways from freight (goods/transportation) services only.
According to the survey called "Citizen Inputs for Railway Budget 2015-16", Revised Collective inputs from 75,000 Citizens in Make Railways Better Citizen Community, in which 13000 voters participated,
Top priorities for Railway Budget 2015-2016 should be:
1. Cleanliness (43%)
2. Safety Improvement (35%)
3. Reservation Systems Upgrade (13%)
4. Food and Amenities (9%)
The passengers are demanding more cleanliness and hygiene services in the trains and railway premises, and more connectivity in busy routes. The railways should give more emphasis on safety measurements to assure the passengers safe journey. The railway minister may come across technology aids to passengers like Wi-Fi, Rail info, SMS services, etc.
-Kannamsai