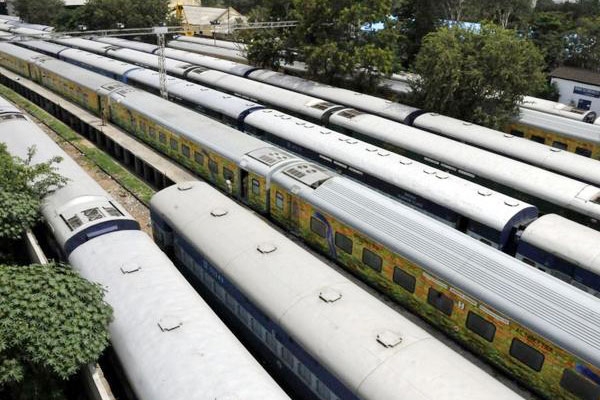 (Image source from: })
The Charted Accountant turned politician, Suresh Prabhu has presented his maiden Railway Budget for the period of 2015-2016. He stated the railways can be made a profitable and vibrant organization in earning and serving the people. He also said the growth of the railways can alleviate the poverty, and no hike in passenger fare.
In his speech, he came across the past decade performance of railways, and said that due improper monitoring and weaker policies railways seen damage. He said that Rs 8.5 lakh crore of investment is needed in railways over next 5 years.
Suresh Prabhu concentrated on cleanliness, safety, revamping the reservation system, and capital generation.
Some highlights of his budget speech:
•    Swachch Rail, Swachch Bharat to improve cleanliness in railway stations and trains across the     country
•    All-India 24x7 helpline 138 for passengers, and 182 for security complaints.
•    Passenger travelling unreserved can book a ticket in 5 minutes
•    Multi-lingual e-ticketing portal
•    E-catering across more trains. You can book cuisine of your choice over IRCTC website
•    Clean drinking water at low cost at stations
•    Will hike annual freight capacity by 1.5 bn ton
•    SMS alert system to inform passengers on arrival and departure of trains
•    More surveillance cameras across stations for safety of women
•    Mobile phone charging facility in general class compartments
•    TTEs should help elderly and pregnant women get lower berths
•    Bullet trains in two years. He has not announced any new trains but said speeding up can reduce the 20% of the delay.
•    No increase in passenger fares
•    Operation 5 minutes--passengers travelling unreserved, can buy ticket within 5 minutes through via debit card with smart phones;
•    17000 more toilets to be replaced by Bio-Toilets this year alone
•    Rs 8.5 lakh crore investments over next 5 years
•    Railways would utilize the Nirbhaya fund for augmenting safer travel for women
•    Online booking of wheelchairs for senior citizen, patients and differently-abled people
•    Tickets can now be booked 120 days ahead of travel date instead of 60 days now.
•    Quick action on feasibility on high speed rail between Ahmedabad and Mumbai
•    Four dedicated freight corridors to be completed this year; 6608 kms of track to be electrified
•    Open wi-fi to be available at 400 railway stations;
•    Delhi-Mumbai journey can be completed overnight
•    Installation of train collision avoidance system on some routes
•    Rs 6,750 crore allocated for eliminating 3438 level crossings; 970 road-underbridge and road-overbridge to be constructed.
•    Speed on nine corridors to be increased from 110-130 to 160-200 kms per hour
•    Resource mobilisation through PPP
•    Investing in Indian Railways, is an investment in our future
•    Railway to procure power through open bidding
•    2015-16 plan size raised by 52 per cent to Rs 111,000 crore
Suresh Prabhu has not concentrated on the traditional budget announcement as the conventional and past ministers, he just focused on the improvement of facilities and cleanliness and also focused on the revenue generation methods.
-Kannamsai