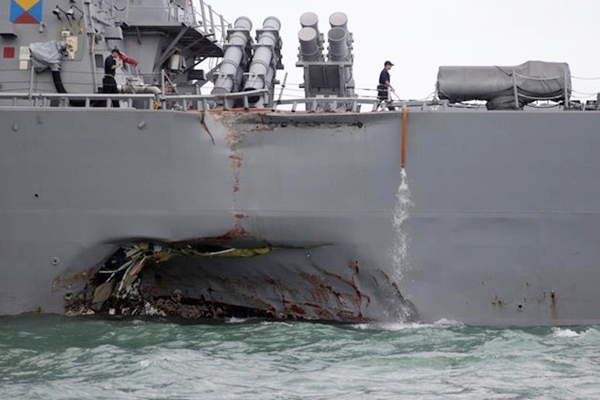 "Two Houston area families" sailors were involved in the collision of US John McCain American warship. One of them survived and other is still missing.
US John McCain collided with an oil tanker east of Singapore , 10 sailors went missing.
Alton willams lll, 21, followed his father foot steps joining the navy.
"I never told him to join, I never asked him to join, I think while I served he was old enough to see some of the experiences I had", said Alton Willams Jr, his father.
"I am alright pass the word, it's trey", said the father reading text from his son, they call him trey.
He sent me messages after saying "Had I not went to gym that morning I wouldn't be here talking about this" Said his father.
His sleeping quarters were hit directly, when he rushed back all he could see was rising water and 10 of his friends were missing.
His father said, "He said I played video games with these guys everyday".
" I Hope they bring him home at least just to visit so we can give him some love, because I know that's what he needs" said Alexis Thompson his sister.
Back at home , they are relived that he is safe and are still waiting to know how it happened.
"We weren't in war with anybody, we weren't attacking anybody or fighting so these deaths can be prevented that's what really hurt's about it" said williams.
This family said that he's on board the relief ship USS America, mean while another family is still holding hope for there loved one, sailor CJ Hoagland who is still missing.