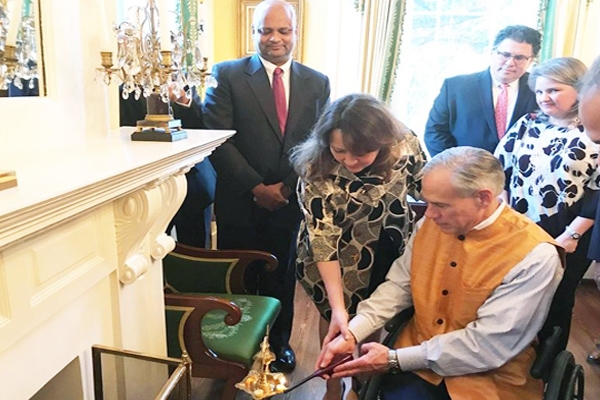 (Image source from: www.india-herald.com)
Texas Governor Greg Abbott arranged Diwali celebrations at his residence at an event attended by eminent Indian-Americans where he praised the community for its achievements in various fields.
Abbott lit the ceremonial lamp at the governor's mansion in Austin city, to mark the festival of lights.
At Sunday's event, Abbott conveyed Diwali wishes to Prime Minister of India Narendra Modi, the people of India and Indian-Americans living in Texas and other states of the United States. This is the fourth year in a row that the Texas governor has hosted Diwali celebrations at his mansion in Austin.
Those present at the ceremony included Indian Consul General Anupam Ray, Deputy Consul General Surendra Adhana and well-known Indian-Americans from across Texas.
Abbot lauded the Indian-American community for its attainments in numerous fields and involvement in the prosperity of Texas. He recalled his visit to India earlier this year, his meeting with Prime Minister Modi, and with salient Indian industry leaders. He as well spoke about the thriving friendship and trade between India, and Texas and the resemblances between Indian and Texan values.
"The growing similarity of shared values such as education, entrepreneurship, economic advancement, and compassion will continue to bring the communities of India, Texas and Indian-Americans closer to each other", Abbott said.
Ray also bestowed a sculpture of Mahatma Gandhi on the part of Prime Minister Modi to the governor and expressed gratitude for opening his mansion to leading Indian-Americans of the state to celebrate Diwali, just two days before the crucial U.S. mid-term election.
-Sowmya Sangam